Recipes
Raw St. Valentine Hearts with Quin Bite Blueberry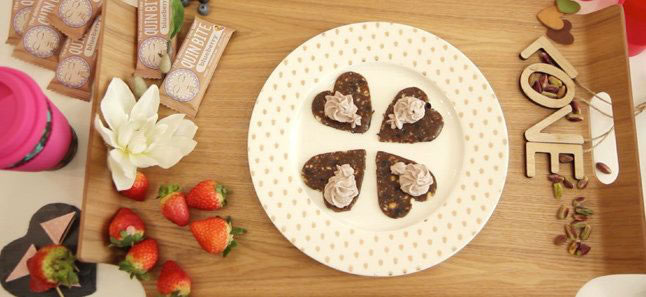 The month of love makes us think romantically, colorfully and creatively, so we offer you to prepare raw hearts with QUIN BITE Blueberry bars which we fell madly in love with!
♥
INGREDIENTS

:

♥ FOR THE BASE:

♥ 3 pcs. QUIN BITE Blueberry raw bars (depends on how many hearts you want to make)

♥ FOR THE CREAM:

♥ 250 g of raw cashews (pre-soaked)

♥ 250 g of strawberries

♥ 30 g Maple syrup – if you like sweets you can double the quantity (can be as well replaced with raw agave syrup, honey or unrefined brown sugar)

♥ 1/2 teaspoon vanilla

♥ 60 ml Coconut oil

♥ FOR DECORATION:

Strawberries

Pistachios
♥
P

REPARATION

♥ Of the base:

Unpack the QUIN BITE Blueberry bars and make them into a ball, which is then carefully rolled into the shape you want. Cut out heart-shaped pieces. Leave in the fridge while you prepare the cream

♥ Of the cream:

Mix in a blender the raw cashews (squeezed from the water in which it was soaked) together with the strawberries, maple syrup, coconut oil and vanilla. Mix until smooth, fluffy texture. If you like sweets, you can add extra maple syrup.

Put the prepared cream in a bag and spray an equal amount on each heart base. You can leave the finished hearts in the fridge and when it's time to serve them, just decorate with the fresh fruits. Cut the strawberries, sprinkle each heart with them and decorate with some pieces of pistachios for better taste.

It'is that easy!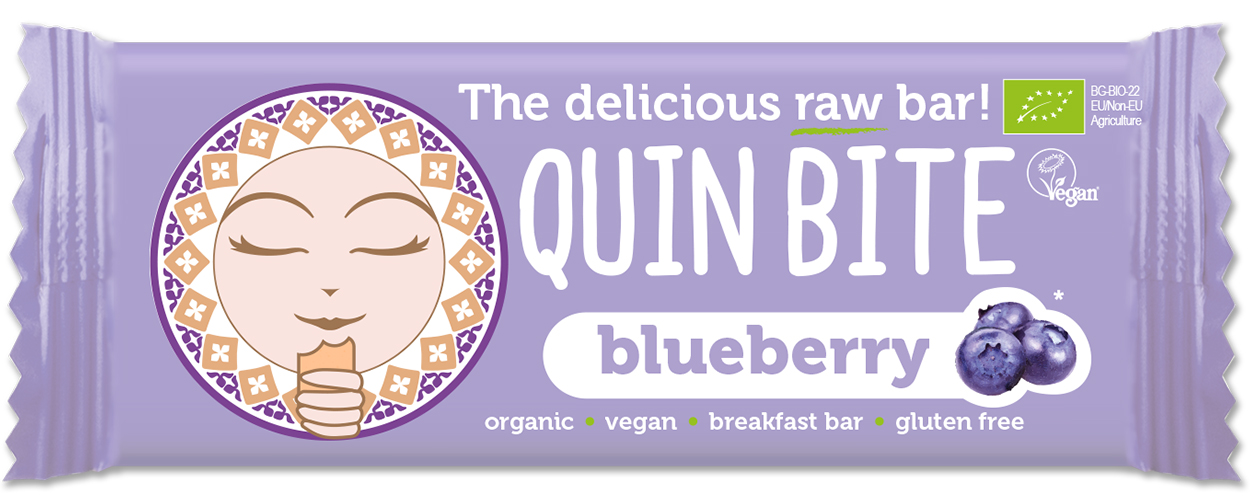 Quin Bite Blueberry  QUIN BITE Blueberry is inspired by the favorite dessert muffin with blueberries, in a new healthier version and raw revolutionary recipe. Ingredients: Dates, Cashew, Blueberries , Coconut milk powder, Cinnamon, Vanilla. Nutrition facts Per 100g Per bar 30g Energy 1618 / 386 486 / 116 Fat 15 4.5 Saturated 4 1.2 Carbohydrates 53 16 Sugars 42 13...